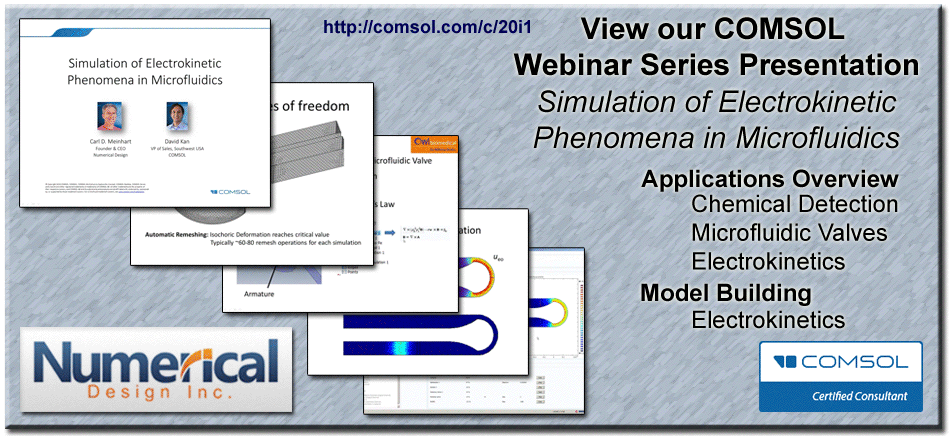 Dr. Carl D. Meinhart, President and CEO
Dr. Carl D. Meinhart is the President and CEO of Numerical Design Inc. He leads the NDI technical team, and has 14 years of COMSOL experience of solving problems ranging from fundamental microfluidics research to analysis of commercial products and is a COMSOL Certified Consultant. Dr. Meinhart is a Professor of Mechanical Engineering at the University of California, Santa Barbara. He holds seven patents, 65+ publications, and is a Fellow of the American Physics Society.
In 1996, Dr. Meinhart joined the faculty in the Dept. of Mechanical Engineering at UCSB. He was promoted to full professor in 2007. He is well known for his work in co-developing micron-resolution Particle Image Velocimetry. This technique is widely used in the research community for measuring detailed fluid motion in microfluidic devices. In collaboration with Prof. Martin Moskovits group in Chemistry at UCSB, Dr. Meinhart co-invented a Free-surface microfluidics / SERS technique for detection of certain gas-phase molecules with ultrahigh sensitivity and specificity. The technique is applicable to the detection of vapors emanating from explosives and narcotics, among others.
Dr. Brian D. Piorek, CTO
Dr. Brian D. Piorek serves as CTO of Numerical Design Inc. where he works with a variety of clients ranging from small to large companies. His primary duties involve the development of strategic relationships with new and existing companies, management and execution of various technical projects, and the development and implementation of intellectual property targeted towards specific projects.
Brian holds a B.S. degree in Chemical Engineering and a Ph.D. degree in Mechanical Engineering from the University of California Santa Barbara. Brian's research has focused on fluid transport phenomena and the development of microfluidic/nanoscale systems and chemical detection mechanisms. He has 17 years experience developing multiphase fluid systems and reactors based on chemical engineering principles and 15 years experience working specifically with MEMS and microfluidics. Brian holds 10+ issued patents and 10+ peer-reviewed publications.